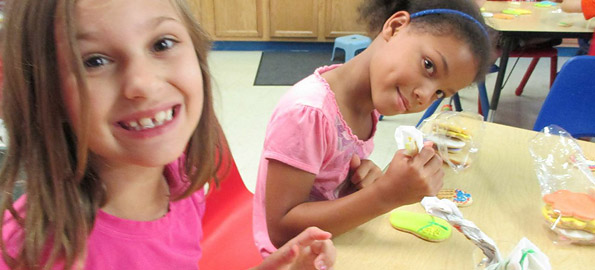 At Small Steps – Big Strides, we're passionate about children's early development and learning. This is why we utilize our 50+ combined years of working with and educating children to develop programs that kids not only enjoy, but also meet the State of Ohio's Department of Education Early Learning Content Standards Curriculum.
Our programs are age-appropriate, engaging, and fun. Our goal is to help create a foundation where learning simply becomes part of a child's life, which paves the way for future success.
We utilize the Creative Curriculum as a base for our programs. The Creative Curriculum was developed after extensive research by leading educators who believe children learn best when they are engaged, and feel both safe and valued. We teach children, and we also teach them how to learn. They will learn to feel confident enough to express ideas and make choices. And have fun doing it.
We're also technologically proficient, and utilize the latest in digital tools and computers. Oftentimes, childcare facilities are the last to upgrade, but we're making technology a focus, because we see it as vital.
In the end, we're confident that our approach is extremely well-rounded, and that your children will receive the engaging and stimulating learning young minds crave.